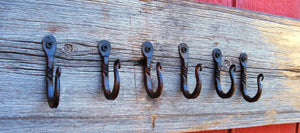 Wrought Iron 1" Twist Hooks, Set Of 6
Regular price
$38.50
$0.00
Here is another variation of our popular twisted wall hooks. This size had been requested by one of our customers and I decided to offer them as a regular item.

They work great around the home for hanging smaller items where a larger hook may not be needed or is just too big. Such as in the kitchen for cloth pot holders or mittens, cooking utensils, coffee cups and as always, Christmas stockings on the mantel....functional and good looking wherever they are used!

Shown in our rust brown finish but also available in our black oil or gray forge finishes as well.

These look the same as our regular size twist hooks but smaller with a 1" inside diameter and only 2 1/2" long.

These are made from 1/4" square stock and are forged right here in our Vermont blacksmith shop.

******Sold in lots of six with screws provided so you can use them right away****

Up to 16 can be shipped in one small priority mail box with no increase in postage.